Location: Marvin's Garden (WORLD OF LOTHEE)
Arrival code: MONOPOLY
For this clue, teams were sent to Marvin's Garden park in Ballard. This location clearly demanded a Monopoly clue. On arrival, teams were given a Monopoly board, pictured below. Each square on the board has been replaced with a picture of a local business or landmark. When teams walked around the corner to investigate GO, they found a sign indicating a roll of the dice, plus a Chance or Community Chest card. The dice roll pointed to the next location to visit. In this manner, teams acquired fifteen cards by the time they ended up back at Marvin's Garden.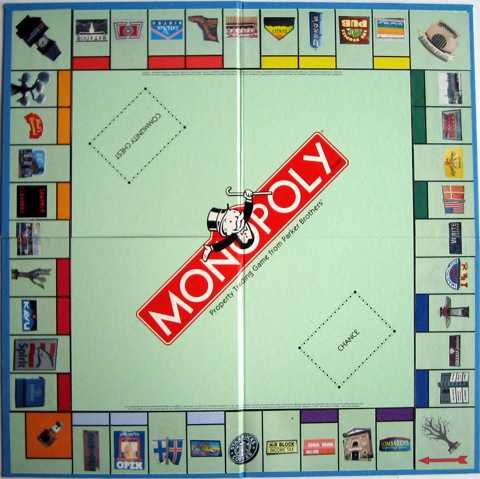 The last stop on the route through Ballard is the bell tower in Marvin's Garden. This stop does not have a card, but it does contain a sign reading "You are in Jail. So is the final answer!"
Show hints at [0] [15] [40] [60] minutes
15: HINT has fully analyzed your reaction to this quaint game. You will not collect $200, but you will start at GO.
40: HINT has computed with overwhelming probability that you're about to place your collected cards in order.
60: According to HINT's latest analysis, you're about to be sure in the knowledge that words are more important than letters.
Reading successive words off the cards yields "Final step to get out of jail free find the park namesake lost at sea." The belltower has lists of names engraved inside of it, included some marked lost at sea. There's only one Marvin in this list: Marvin HAMLIN.