Location: Sunset Bowl (SALON BRAVO DELTA)
Arrival code: SUNSET
In the box below, enter a bowling score for one frame. Valid scores are all single characters. Of course, if you really want to experience this clue, you should go to a bowling alley and actually bowl. It's a lot more fun that way.
I give up. Show all clue data.
Show hints at [0] [35] [50] [60] minutes
35: The HINT system has deduced that you were about to realize the significance of the number of pins knocked down by each ball.
50: The HINT system has noticed that you've almost recognized the significance of bowling pins having the numbers 1 through 10 associated with them.
60: The HINT system is impressed that you are close to a breakthrough in which you've realized that you can play connect the dots with the pin numbers, using zeros as breaks.
The first step to solving this is simply to collect all of the data. This is accomplished by bowling frames with unique scores. For instance, if you bowl a strike, you will get a piece of data, but subsequent strikes will not yield anything. There are twelve possible scores (0-9, /, X) and eleven pieces of data. For the most part, the data is not linked to particular scores; it is given out in a prescribed order as you bowl unique scores. Don't forget to bowl a double gutter (zero). This reveals "frame 0," or the player names, which has helpful information.
Next you'll probably want to find the hidden instructions. If you transpose the letters in the top row (reading the first letters, then the second letters, etc.), you will see "first and last letters of frame zero reveal hint." If you look at the first and last letters in the names in frame zero, you will get "connect pin nos."
To close, read the frames left to right, top to bottom, noting how many pins were knocked down by each ball:
7 2 5 3 10
5 2 1 3 5 2
2 8 10 5 3
8 2 3
5 2 8 2
5 3 1 2 5
5 4 2 7 8
8 2 3
5 3 1 2 5
4 6 5 1
8 3 5 4 2 7
5 4 2 3 2 7 8
5 4 2 3 2 7 8
These sequences can be mapped onto a pin diagram to get letters.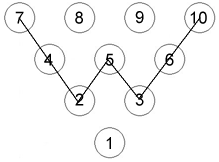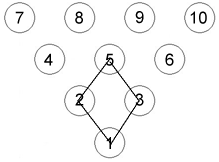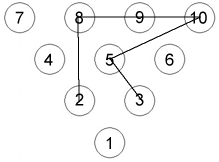 etc.
WORLD OF LOTHEE